This meeting is the first of five focus group discussions about the Neighborhood Plan, which is intended to be a vision for the future of the West Loop, one that promotes preservation, progress, and prosperity.  This meeting addresses the "Madison Corridor", the area bounded by Ashland on the west, Green on the east, Adams on the south, and Washington on the north (see image below). Click these links to review the meeting agenda and presentation slides.
Review of Prior Studies
Matt Letourneau, NOWL facilitator for the Madison Corridor, led a review of prior studies in the West Loop, including several plans between the 1960s and 1990s that focused on redevelopment and rejuvenation of the area.  The review also included the Near West Side Area Land Use Plan (2000) and the Central Area Action Plan (2009).  The Near West Side Plan included several recommendations that are echoed today:
Low to moderate density residential development
Neighborhood-oriented retail
Adherence to existing zoning
New development to retain the scale of the "existing building fabric"
Encouragement of "family-sized units"
A "step-down" in building height from the expressways
Group Discussion
Attendees reviewed a series of discussion topics, identifying problem areas and potential solutions for each topic.  The group then prioritized each area through a voting exercise (topics listed in the priority order resulting from the voting).
Development Guidelines
There is a lack of consistency in design standards in the West Loop.
Building height should be based on that of nearby buildings, with maximum heights as follows:

Washington: maximum heights ranging from 85 ft to 100 ft
Madison: maximum height of 60 ft
Monroe: maximum height of 60 ft
Adams: maximum height of 60 ft

Setbacks can be used to provide greater height.
For north-south running sidestreets, building heights should be scaled based on the width of the street, i.e., shorter buildings on thinner streets.
New buildings should continue the industrial look of the neighborhood.
Windows should minimize glare.
Retail targeted to the neighborhood should be encouraged along Madison and, to a lesser degree, on Monroe and along sidestreets.
Traffic
The neighborhood would benefit from a comprehensive traffic study, as opposed to individual traffic studies for each development project.
The following intersections were identified as problem locations:

Throop and Madison – stop control is needed to improve safety
Monroe Street – consider converting to one-way eastbound
Racine at Madison – improve traffic flow
Aberdeen at Madison – improve sightlines for drivers and pedestrians
Aberdeen at Monroe – improve sightlines for drivers

High volume pedestrian crossings should be upgraded to improve safety, especially near parks.
Speed cameras should be considered to reduce speeds near parks.
Closed roadways, e.g., Loomis at Madison, should be considered for reopening.
Parking
There is a shortage of surface parking in the West Loop.
Permit parking on sidestreets – especially if applied during the morning peak (8-10 am) and evening (6-8 pm) – could address the issue of commuters taking up parking. This approach would still allow for turnover of parking for local businesses.
Parking ratio should be in the range of 0.5-0.6:1 for apartment buildings and 1.0-1.5:1 for condominiums.
Loading zones should be provided for businesses that have a large number of drop-offs/pick-ups, e.g., restaurants, schools/child care facilities.
Parks/Green Space
With Union, Skinner, and Bartelme, there are three good parks in or near the Madison Corridor.
The fieldhouse at Skinner Park is in need of replacement.
Any new facilities at local parks should have restrooms.
The pool at Union Park should be improved to attract more patrons. It was agreed that Union is a great park, but (pedestrian) access to the park is difficult.
The field surface at Skinner Park should be improved, possibly with artificial turf.
Some safety concerns were expressed about Skinner Park.
Attendees expressed a desire for developers to make green space on their properties public.
Residents, City officials, and concert promoters should continue to coordinate ahead of major concerts at Union Park.
Streetscaping/Infrastructure
There is a lack of available trash cans in the West Loop.
The City should look into using dog waste trash receptacles.
The West Loop needs more (and better spaced) mailboxes.
Streetlighting should be improved near Skinner School, e.g., more lights, lower lights (below the tree line), tree trimming near the lights.
Tree replacements are needed along Madison, Monroe, and Aberdeen.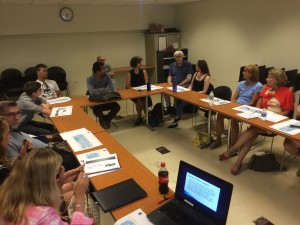 Public Safety
Crime is not seen to be a major concern, however some less safe areas were identified:

Increased monitoring of the Morgan El station might reduce crime.
Increased activity resulting from planned developments should improve public safety along Van Buren.
Community Facilities
As previously mentioned, the fieldhouse at Skinner Park is in need of replacement.
Other areas proposed for a community center include the empty parcel at the northwest corner of Bartelme Park or 170 N. Green.
Planned developments like the Soul City Church expansion and the Chicago Children's Theater will provide new meeting space, but a public community space will still be needed.
Schools
Attendees are pleased that Skinner is being expanded, but the group felt that the school's popularity will continue to draw students and may lead to overcrowding again in the future.
The West Loop is in need of a neighborhood high school to support all of the families that are staying in the neighborhood.
Other Topics
Attendees suggested that having a single alderman for the West Loop might streamline coordination.
It will be important for neighborhoods surrounding the West Loop to be involved in the Neighborhood Plan
Next Steps
Input from the Neighborhood Plan focus group meetings will be summarized and aggregated.  Follow-up focus group meetings may be held to review the initial findings.  The draft Neighborhood Plan will then be distributed for review and adoption by NOWL and possibly by the local alderman and the City.
Attendees
Thanks to all of the attendees for their ongoing participation:
| | | |
| --- | --- | --- |
| Jane Bilger | Lisa Heinz | Koushik Subramanian |
| Heather Bragg | Susan Leith | Sam Tenenbaum |
| Armando Chacon | Matt Letourneau | Sue Weber |
| Richard Dees | Kyle Morris | Curt Winkle |
| Craig Franzen | Mark Nelson | Shayne Wulbert |
| Taz George | Debbie Schaffel | Julie Zerega |