This meeting is the next of five focus group discussions about the Neighborhood Plan, which is intended to be a vision for the future of the West Loop, one that promotes preservation and progress.  This meeting addresses the "Loop Corridor", the area bounded by Des Plaines on the west, the river on the east, I-290 on the south, and Kinzie on the north (see image below). Click these links to review the meeting agenda and presentation slides.
Review of Prior Studies
After NOWL Treasurer Nick Sickler led introductions and discussed the meeting's purpose, Matt Letourneau, NOWL Development Committee Chair provided a review of prior studies in the West Loop.  This includes several plans between the 1960s and 1990s that focused on redevelopment and rejuvenation of the area. The review also included the Near West Side Area Land Use Plan (2000) and the Central Area Action Plan (2009):
Low to moderate density residential development
Neighborhood-oriented retail
Adherence to existing zoning
New development to retain the scale of the "existing building fabric"
Encouragement of "family-sized units"
A "step-down" in building height from the expressways
Group Discussion
Attendees reviewed a series of discussion topics, identifying problem areas and potential solutions for each topic.  The group then prioritized each area through a voting exercise (topics listed in the priority order resulting from the voting).
Development Guidelines
There is a lack of consistency in building characteristics (e.g., materials/height) in northern part of the corridor:

Mid-rise (under 7 stories) feel is preferred in the north side (north of Madison)
High-rises south of Madison
Excessive use of glass, which works with existing brick buildings (industrial feel vs. all glass & steel)

Consider down-zoning properties now to retain the character of the neighborhood
Would like to see more creativity in the architectural aspects of new buildings

Need to enclose mechanical equipment on top of new developments to reduce noise.
Traffic
Concerns about Halsted traffic now and in the future, especially at Grand/Milwaukee, Halsted.

Suggest having more enforcement of no left turn.

Entrances and exits from the freeway vs. pedestrian conflicts
More pedestrian signage
The following intersections were identified as problem locations:

On-ramp to the Kennedy at Randolph backs up (single to dual turn lane)
Pavement striping needs improvement (e.g., Jefferson and Clinton)
Pedestrian issues approaching Ogilvie  (e.g., Clinton & Milwaukee) – need more signage
Better bike lane signage, pavement marking on Milwaukee
The bike lane needs to be on the east side on Clinton starting at Kinzie, not at Milwaukee/Fulton
Randolph pedestrians vs. traffic headed to the freeway
Des Plaines at Madison (always traffic heading southbound)

Supportive of the bike lane on Des Plaines, but need better bike lane pavement marking between Kinzie and Lake Fulton (need better pavement marking)
Too many people park in the alleys – need to enforce no parking laws
Parking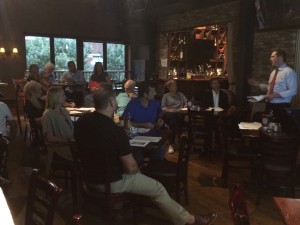 There is a shortage of surface parking in is corridor – too expensive.
Surface level lots are changing into developments, meaning less capacity.
Need a parking study – and need to promote parking options. 
Use of car lifts in new developments.
Parking ratio should be in the range of 1:1 for apartment buildings and 1.0-1.5:1 for condominiums.
Replace free parking with metered spots for short periods, e.g., Fulton.
Schools
There is a perception that schools in the area are at or near capacity and new 3-bedroom units will add to this issue.
The West Loop is in need of a neighborhood high school to support all of the families that are staying in the neighborhood.
Community Facilities
Need a swimming pool (warm pool – 93° – for Baby Boomer population).

Need a world class dog park.
Parks/Green Space
Fulton River Park needs some trees – not very inviting.

Need to keep it clean
Need to design parks for success

Cap the Kennedy is a great idea and needs to be pushed forward
Attendees expressed a desire for developers to make green space on their properties public.
Streetscaping/Infrastructure
Need to keep up planters better.
Sidewalk is unsafe (vaults are visible), especially on Fulton just west of Clinton, Desplaines between Fulton & Kinzie.
Need a streetscaping plan for the area, consider having a welcome structure (consider having developers add this to their proposals).
Public Safety
Crime is not seen to be a major concern, apart from occasional rashes of break-in attempts.  Making sure that doors are secured would alleviate the issue.
Sketchy area between Haymarket Pub and the Kennedy.
Other Topics
Maintain employment opportunities.
Noise is a bit of an issue, but it is to be expected in an urban environment next to the expressway (again – cap the Kennedy!).
Next Steps
Input from the Neighborhood Plan focus group meetings will be summarized and aggregated.  Follow-up focus group meetings may be held to review the initial findings.  The draft Neighborhood Plan will then be distributed for review and adoption by NOWL and possibly by the local alderman and the City.
Attendees
Thanks to all of the attendees for their ongoing participation:
 Jeanne Braun

Wally Braun

 Chris Knupp

Jennifer Kosse

 Linda Potaniel

Laura Shone

 Jeff Broaden
 Matt Letourneau
 Nick Sickler
 Teresa Dickinson
  David Neukom
 Martyn Smith
 Dave Gelfang
 Kathryn Neukom
 Andrew Tracey
 Evan Grace
Dick Podmore
 Monica Tracey
 Sara Griffin
 Judith Podmore