Neighbors of West Loop is always looking for ways to engage our community to improve quality of life for residents. We are currently working on several projects around the neighborhood – please email info@neighborsofwestloop.com to participate!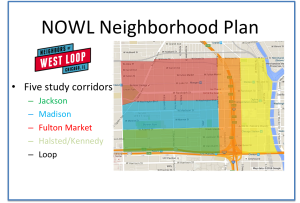 The Neighborhood Plan
Soon to be released, the Neighborhood Plan will act as a resident-driven vision for the future of the West Loop, providing guidance to the NOWL Development Committee, developers, city planners, and elected officials about the neighborhood in which we want to live.  
Generated from community input gathered through a series of workshops across the neighborhood, the plan focuses on land use & development, traffic & parking, infrastructure, parks & green space, and public safety. The document outline includes a review of prior studies that inform the document, the vision and objectives for the plan, and a series of recommendations in each of the focus areas. Once adopted, the Neighborhood Plan will provide the resident perspective on growth in the West Loop, one of preservation, progress, and prosperity. You can read more about it here.
West Loop Parking Program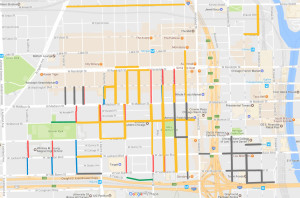 To help preserve parking volume in the West Loop, a resident permit parking program has been in the works for several years. Co-sponsored by local Alderman Danny Solis (25th Ward), Alderman Walter Burnett (27th Ward), and Jason Ervin (28th Ward), the program would restrict parking along certain routes in the West Loop. Based on an ordinance brought to the City Council in 2015 and subsequent iterations discussed as recently as spring of 2017, Neighbors of West Loop conducted a community outreach effort to gather input about desired areas for permit parking enforcement. You can read our recommendations for this initiative here.
In May of 2016, the West Central Association/Chamber of Commerce and the Metropolitan Planning Council hosted a meeting about parking and land use in the West Loop. You can read NoWL's perspective on the recommendations of WCA/MPC plan here.
West Loop Infrastructure Improvements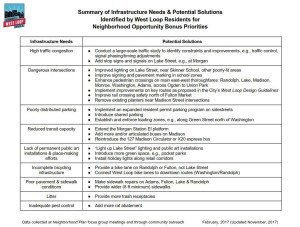 The West Loop is home to the Kinzie Tax Increment Financing (TIF) which has grown to $90M+ over the years.  The recently established Neighborhood Opportunity Bonus has accrued additional funding as a result of the recent increase in development around the neighborhood. In response, local aldermen have reached out to Neighbors of West Loop and other community organizations to help identify priorities for infrastructure improvements for the near- and long-term.
In response, as part of the Neighborhood Plan outreach effort, Neighbors of West Loop gathered input about infrastructure needs from the community through an online survey, social media dialogue, and in-person conversations at community meetings on the topic. The results of this outreach were presented to the City in February of 2017 during an infrastructure workshop. Later, in November of 2017, Neighbors of West Loop participated in a second meeting on infrastructure in the West Loop, which led to an update in priorities. You can review the current list by clicking on the image at left.