The neighborhood has mobilized in response to the recent uptick in crime in the West Loop. Here is a rundown of recent events and where things stand as well as a list of upcoming events and meetings:
After a morning attack and robbery along Fulton Street in late October, the Fulton Market Association held a meeting with Cpt. Philip Kwasinski and Sgt. Chris Schenk from the 12th District of the Chicago Police Department. Meeting topics included recent crimes, steps residents can take to stay safe, and ways that CPD plans to improve safety in the West Loop.  Chief among these was a request for six (6) new bicycle patrolmen. CPD feels that bike cops would be more effective in deterring and responding to crime. 
Neighbors of West Loop (NoWL) devoted a portion of its State of the 27th Ward event on November 7th to learn what our local aldermen are doing to reduce crime. During this meeting Ald. Walter Burnett (27th Ward) and Ald. Dannny Solís (25th Ward) spoke about the adverse effects of the 2012 combination of the 12th and 13th police districts: in addition to relocating the station from Monroe & Racine two miles south, it reduced the number of officers for the beats in the West Loop while increasing coverage area. The aldermen have requested that the district be split up again, with a station to be located in the West Loop. They have also requested more officers for our neighborhood and improved street lighting. Cpt. Kwasinski attended this meeting as well and noted that any resident can contact Sgt. Schenk at christoph.schenk@chicagopolice.org to get a free safety assessment of their property. The group also encouraged residents to call the police when they witness a crime.
On Nov 8, at Beat 1231 CAPS meeting held at Academy Square- 318 S Throop.  Beat 1231 covers the SW corner of the West Loop and extends into the Little Italy neighborhood.  Police highlighted crimes that occurred since the last meeting and attendees raised concerns in the uptick in robberies across the whole beat.  Within the 1231 beat, there were two robberies that occurred in the vicinity of 300 block of Laflin.  Several Little Italy residents also reported an uptick in crime on their block and asked whether it was a good idea to hire private security to patrol their block.  The police did not think it was a good idea because private security guards do not have police powers on public streets.  Private security guards would have to call the police to respond if they saw a crime or observe something suspicious similar what an average citizen has to do.  Private security are more effective on private property to ensure there is no unauthorized access but public streets and sidewalks are open to everyone.  Only an on-duty police officer has police powers.  The police recommend that residents call 911 if they see anything suspicious.
On Nov 9, Sue Weber, chair of NoWL's Safety- CAPS committee became a member of the 12th Police District Advisory Council.
On Nov 19, The NoWL Safety CAPS Committee met to work on community safety priorities.  NoWL will be co-sponsoring a second self-defense workshop on Sunday, December 10, 1pm to 3pm with the Philip Nearing School of Wing Chun and Crosstown Fitness. SIGN UP HERE
On November 20, a group of residents involved in the True West Loop forum gathered to review crime data, hear accounts of incidents in the area, debate profiling, and discuss their own ideas for improving safety in the neighborhood. These ideas centered around installing and connecting more security cameras, safety patrols, better street lighting, cashless business transactions, group dog walks, and several other suggestions. Acknowledging the current limitations on City funding and CPD & 911 dispatching resources, the group discussed other opportunities for potential funding from within the community. Many attendees left the meeting with action items centered around the ideas discussed. 

As we move forward together to reduce crime and keep ourselves safe, there are many ways to get involved: CPD hosts regular Chicago Alternative Policing Strategy (CAPS) meetings around the city. You can find your beat on our Neighbors of West Loop Public Safety/CAPS Committee page and find your next meeting using our West Loop calendar. To get more involved, our Public Safety/CAPS Committee or the West Loop Community Organization's Safety Committee offer a way to  get more informed about crime and help formulate and implement ideas to improve public safety. Social media provides another way to get connected to others in the community that are concerned about this issue.
Above all, residents should take steps to stay safe: be aware of your surroundings, report suspicious activity, keep track of your belongings, get to know your neighbors (and don't let people you don't know follow you into your building), be prepared if a crime occurs. CPD often holds informational sessions and NoWL has sponsored self defense classes to help in this regard.
Stay tuned for updates about these events and further updates from NoWL on this important topic.
UPCOMING EVENTS AND MEETINGS REGARDING PUBLIC SAFETY
Wednesday, Nov 29 @ 6pm | Public Safety and Awareness Workshop | 12th District Police Station – Community Room ( 1412 S. Blue Island ). Note this is not a self-defense workshop, rather this workshop will provide you with tips on public safety and awareness so that it reduces the likelihood of you being targeted as a victim.
Wednesday, Dec 6 @ 6pm  | Beat 1224 CAPS meeting | Police Academy ( 1300 W. Jackson Blvd. )  This beat covers a large part of the West Loop (generally, bounded by Lake St, I90, Arcade, Racine, Adams, Ashland) per the map above.  Come discuss your concerns and work on strategies to address crime with the police.  Meet the beat officers and the CAPS officers.
Sunday, December 10 – 1pm to 3pm | Self Defense (Co-Ed) Workshop.  | Crosstown Fitness ( 1031 W. Madison St. )  Learn self-defense techniques should you be attacked in this workshop sponsored by NoWL, Philip Nearing School of Wing Chun, and Crosstown Fitness.  Limited to 40 spots.  SIGN UP HERE
Thursday, December 14 @ 6pm | Beat 1214 CAPS meeting |  Bennett Day School ( 955 W Grand )This beats covers the North section of the West Loop and includes parts of River West and West Town.  Within the West Loop, this area comprises of a large area of the Fulton Market District and the Fulton River District is bound by the Chicago River, Grand St, Racine, and Lake St. Come discuss your concerns and work on strategies to address crime with the police.  Meet the beat officers and the CAPS officers.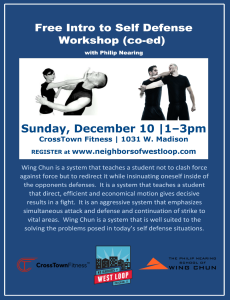 Date: Monday, November 20, 2017
By: NoWL Board member Matt Letourneau, May Toy, and Public Safety/CAPS Committee Chair Sue Weber