Welcome to the second installment of the NOWL Culinary Interview Series!
In the inaugural piece, we spoke with Rachel Driver Spreckan, the National Wine Director at City Winery. We would like to extend our hearty congratulations to Rachel on the birth of her daughter, Lillian Eleanor Spreckan. We cannot wait to share a glass of vino with you to celebrate!
This time we visited Won Fun Chinese and 2Fun Chinese, which opened last week. The new bi-level restaurant and bar is located at 905 W. Randolph St. The location is next to West Loop veteran, J.P. Graziano Grocery Co., who also serves as the new tenant's landlord. On our visit we were fortunate to speak with the owner, Austin Baker, and try out some of their food and drink offerings.
The menu offers a progressive take on Chinese and focuses on Sichuan-inspired Chinese fare. You can learn about Austin's past restaurant experience with Brendan Sodikoff's Hogsalt Hospitality in Stephanie Lulay's article for DNAinfo and about some of Austin's future plans in this article by Ashok Selvam for Eater Chicago.
Both of those articles touch on the Sichuan offerings on the menu, so you can get the professional's review from the professionals there. One thing to point out to the West Loopers, while many believe Sichuan is too spicy for their pallet, Austin recently explained to DNAinfo's Stephanie Lulay, that isn't the case.
"One of the misnomers about Sichuan food is that it is all very spicy. And it's not," he said. "There definitely is that flavor profile, but that's one of seven. We explored all of it and [developed] a more rounded menu that would appeal to more people."
Before giving our take on the food and drinks, it's worth noting that the space really looks amazing! It presents a hip and trendy vibe, but without the pretentiousness. This idea is fortified by the fact that monthly karaoke is slated to begin in the upstairs bar, 2Fun Chinese, on December 13th. It hard to be pretentious while singing karaoke!
We started with the Chinese Bacon Buns and the Mouthwatering Rabbit which had a nice, little kick and definitely lived up to its' "mouthwatering" moniker. Continuing with that theme, the Red Braised Beef Short Ribs melts in your mouth and overall, the dining experience was an exploration in amazing flavors.
After dinner, we visited 2Fun Chinese upstairs, where Peter was one of the bartenders. Peter convinced me to be adventurous and try the Open Says Me, a light cocktail made with sesame gin, coconut, ginger and lime.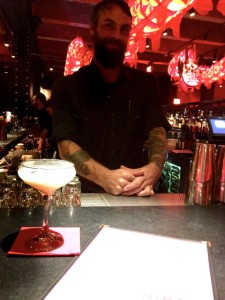 While the cocktail was undeniably refreshing, it may be better suited for spring and summer in Chicago in my opinion. That being said, the Navy Strength Old Fashioned was amazing! The cocktail is uniquely made with rum and orange bitters and was a treat.
Our visit to Won Fun Chinese and 2Fun Chinese was tasty and fun and the staff was impressive in their knowledge. This seems to be instilled by ownership, so here's a little more info about Austin Baker from our conversation.
When did you get into the restaurant/bar business?
I first got into the restaurant/bar business when I was 19 years old, I was washing dishes at a country club.
Where do you live and what do you think is special about the West Loop?
I lived in the West Loop until about a year ago, when I moved to Humboldt Park. My favorite part about the West Loop is definitely the talented restaurant community. Since opening Won Fun and 2Fun Chinese, my team and I have established a strong relationship with the J.P. Graziano family seeing that they are our landlords. I think it's extremely important to be supportive of business owners in the West Loop community and to support one another.
What else can you share about yourself so the residents of West Loop can know you a little better?
We are excited to be a part of the neighborhood and bring authentic Sichuan cuisine to the area. We hope to strengthen the community and get more involved in the months ahead through event partnerships and volunteering.
As told to: Brian Ferber, Neighbors of West Loop